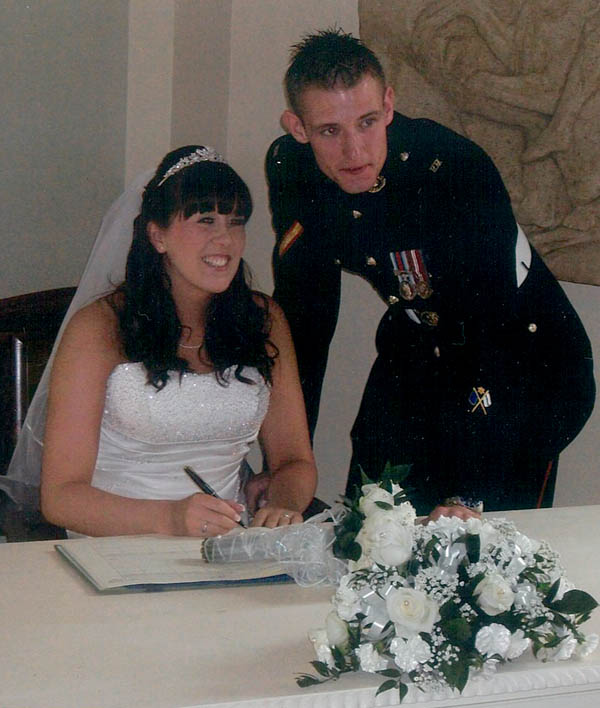 Elizabeth Parker and Andrew Richardson were married at The George Hotel, Piercebridge on Saturday 11th August 2012.
Natalie an administrator is from Newton Aycliffe and Andrew, from Willington is a Royal Marine based in Arbroath.
He has already served twice in Afghanistan and is due to return there at any time and it was touch and go whether the wedding would go ahead. The Bride was stunning in her Ivory gown and Andrew stood proud in his military uniform.
The Chief Bridesmaid was Holly Larman with the grooms sisters, Danielle and Sophie-Jean. Other bridesmaids were Natalie's University friends Hannah Hornigold and Emma Kelly. The groom's cousin Charlie-Joe Bates at 3 years old did a wonderful job.
Andrew had two Best Men, his cousins David Bates and Scott Jones who are inseparable. Ushers were David Parker and Lee McConville. Completing the entourage as Page Boys were Kirtis and Liam Osborne.
The Bride was given away by her Step-Dad Tony who was so proud to walk her down the aisle. Surprise entertainment was provided by the Bride's parents who had engaged Singer/Guitarist Val Boyers. Andrew's sister Sophie Jean brought the couple to tears as she sang to start the Evening Reception.
The Bride and Groom said it was the best day of their lives and better than they could ever imagine. They thank everyone for good wishes, money and presents. They enjoyed their Honeymoon in Mexico and returned to begin their married life together in Newton Aycliffe.