This map of the defibrillator locations in Newton Aycliffe was published on Friday 10th January 2020.
The map will be updated as and when new locations are provided, with the permission of the building user.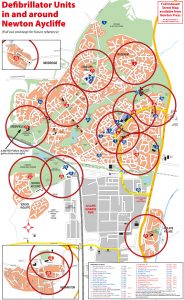 Defibrillator Locations
1 Woodham Golf Club – Pro Shop DL5 4PN
2 Woodham Village Community Centre DL5 4UE 24 HOURS
3 Tesco DL5 4DH
4 Aycliffe Dental Practice DL5 4NW
5 Newton Aycliffe Leisure Centre DL4 4EH
6 St Clares Church DL5 5NT 24 HOURS
7 Bewick Crescent Surgery DL5 5LH
8 Pease Way Surgery DL5 5NH
9 Moore Lane Sports Club DL5 5AG
10 Simpasture Care Home DL5 5JZ
11 Newton Aycliffe Town Council Offices DL5 6QF
12 Oakleaf Sports Complex DL5 6QZ
13 Greenfield Community College DL5 7LF 24 HOURS* (Limited Public Access – gates close overnight)
14 Greenfield Convenience Store DL5 7EX
15 Bay Horse Public House, Middridge DL5 7JD 24 HOURS
16 Jubilee Medical Group, Cobblers Hall Surgery DL5 4SE
17 Pioneering Care Centre (PCP) DL5 4SF 24 HOURS
18 Heighington AFC DL5 6PH 24 HOURS
19 Neville Parade Community Centre DL5 5DH 24 HOURS
20 The Navy Club DL5 7PW 24 HOURS
21 Woodham Burn Primary School DL5 4EX
22 Woodham Academy DL5 4AX
23 The Big Club DL5 5NU
24 Vane Road Primary School DL5 5RH
25 Oakleaf Sports Pitch DL5 6QF 24 HOURS
26 School Aycliffe Community Centre DL5 6QF 24 HOURS
27 Aycliffe Village Community Centre DL5 6LG 24 HOURS
28 St Mary's RC Church DL5 4HT 24 HOURS
29 75 Washington Crescent DL5 4BE 24 HOURS
30 St Oswald House DL5 4BQ
31 Heighington Village Hall (Toilet Block) DL5 6PE 24 HOURS
32 Sydney House (The Hall – Unit 7) DL5 6DX
Red hearts on map show the location of defibrillators available 24 hrs. Contact emergency services for release code.
Red circles indicate 500 metre radius for 999 ONLY Emergency call-out.
Blue hearts on map show the location of defibrillators which are only available during opening hours.