On 16th April the Mayor and Mayoress of Darlington, Gerald and Ruth Lee hosted Afternoon Tea in Redworth Hall Hotel.
The purpose was to honour seven residents of Heighington and Coniscliffe Ward who had served during WWII. They were: Thomas D. Beecroft of the Royal Canadian Air Force; Denise Carver and, Douglas Sayles, the Royal Navy; John (Jack) R. Suddes, Durham Light Infantry and Mary Skipsey, the Land Army.
Sadly, Rene Hoskinson, ATS and William R. Hoskinson, the Royal Air Force,  were unwell and could not attend.
A packed Hall listened to David Allaway read out citations for the veterans. Everybody present was very moved to hear of the exceptional bravery, courage, and resilience of ordinary men and women who performed in a very extraordinary way in the service of their country.
Mary Skipsey declined a citation; instead she entertained everybody with some hilarious anecdotes of life in the Land Army.
The Queen's representative, the Lord Lieutenant Sue Snowden presented them with a Certificate, and a second one was presented by Worshipful Mayor, Cllr Gerald G. Lee.
Trish McLean then led the company in singing all the old songs popular in WWII.
The Veterans received a standing ovation when they left the Hall and there was not a dry eye when Jack Suddes stood to attention and recited 'We will remember them' before bidding farewell.
After a very memorable afternoon in Redworth Hall Hotel the proceeds from the afternoon's fund-raising activities went to the Children's Ward, Butterwick Hospice and the Phoenix Recovery Centre, Catterick.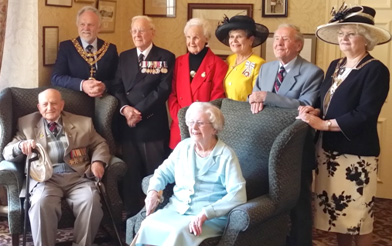 left to right standing: Mayor of Darlington Gerald Lee, Douglas Sayles (Royal Navy), Mary Skipsey (Land Army),  Lord Lieutenant, Sue Snowden, Denis Beecroft (Royal Canadian Air Force), Mayoress Mrs Ruth Lee. Sitting: Jack Suddes (Durham Light Infantry), Rene Hoskinson (ATS).