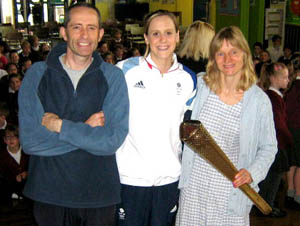 On Wednesday 4th July 2012, Vane Road Primary School received an exciting visit from a former pupil – Angie Winstanely-Smith, who is now an Olympian in the field of water polo. Angie hosted a full-school assembly, allowing the entire school to listen intently to her fascinating facts about the sport she participates in.
Angie will be taking part in the London 2012 Olympic Games as a member of Team GB and is pictured below with 2 of her former teachers. We wish her luck and hope she wins medals as well as the rest of her team!
By Kate and Jasmeen.