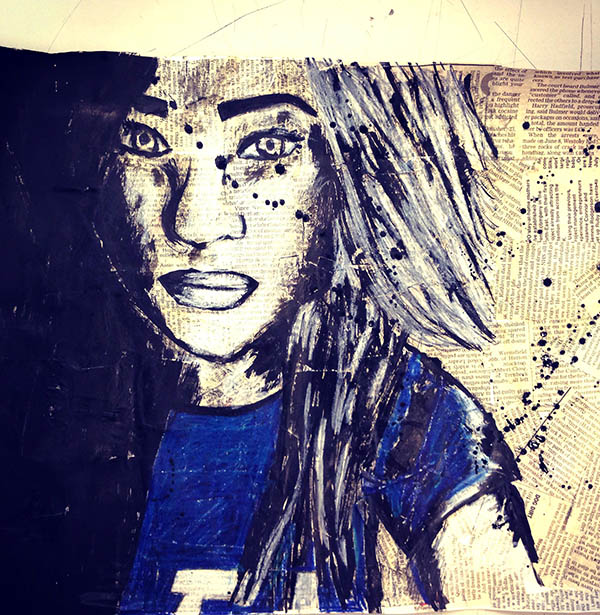 There's a buzz about the art department at Woodham Academy.During the spring term, Year 9 students have undertaken a project on portraiture looking at a number of contemporary artists and non-traditional methods of drawing the face.
They have made portrait work in a variety of unusual ways using ink, ripped newspapers, sticks, candy corn, beans, spaghetti, thread and photography.
Artists studied are Ben Tour, Maurizio Anzeri, Vik Muniz, Justin Sears, Sarah Beetson and Loui Jover. But even more exciting is that they have been complimented in their efforts by artist Loui Jover via Twitter.
Jover is an Australian artist represented by the famous Saatchi
contemporary art gallery in London. His work is distinctly recognisable by hand drawn stark black lines, scratches and drips against adhered together sheets of vintage book paper. Year 9 students are thoroughly enjoying the project and in particular Jover's work.
Tweeting the artist, the school's art department sent Jover an image of students' work explaining that they had made work inspired by him and asked "what do you think?" Minutes later, Jover replied tweeting "I am so very honoured and think the results look FANTASTIC!
Please tell the class I think they are AWESOME!". He continued on to say "….what a fantastic expression of ART, truly appreciate that I may have inspired you in some way..x" He has further replied to tweets from students themselves showing him their tribute work to him and other work made in art lessons.
The art department tweet examples of exemplary student work daily, information on local art events and exhibitions and links to things of interest trending on twitter and the internet. You can follow the art department on Twitter at @WoodhamArt or on Instagram at Woodham_art