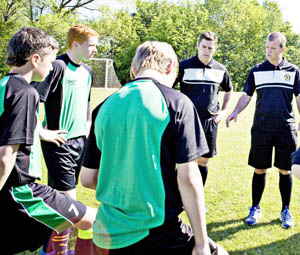 On Tuesday evening, over one hundred young people and their parents attended the launch of Woodham Sports Academy which will offer high-quality coaching opportunities to elite athletes in a range of sports.  These include football, dance, basketball, American football, cricket, gymnastics, softball, table tennis and swimming.  Coaching will be delivered by Woodham's award-winning Physical Education department, Premier Player Football Academy and in partnership with Durham County Cricket Board, Durham Wildcats, Newton Aycliffe Spartans and the British American Football Association.  Former Woodham students, Jason Steele (Middlesbrough FC) and Ross Turnbull (Chelsea FC) are ambassadors.
Membership of Woodham Sports Academy will be open to all students at Woodham Academy subject to selection in some sports.  Members will be required to meet strict academic criteria in terms of achievement, attendance and discipline.
Headteacher, Christine Forsyth says "Those who take part in competitive sports often do better academically.  Sport gives a structure to learning that can help in any subject.  Our aim is for athletes to aspire and achieve, not just in their chosen sport, but in all aspects of their lives at Woodham and beyond".
Coaches in the photograph are Andy Collett, formerly of Middlesbrough and Darlington and Neil Maddison, formerly of Southampton and Middlesbrough, coaching at Woodham Sports Academy.