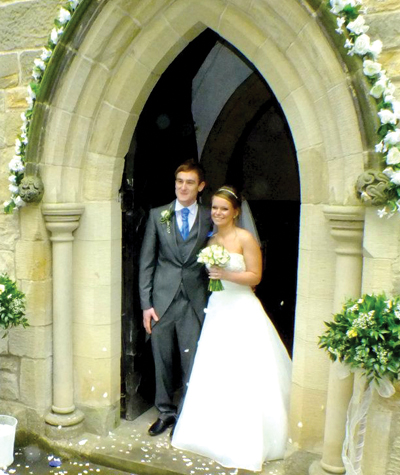 Gemma Rodgers and Andrew Bowtell were married on the 19th May at Whitworth Church, followed by reception at the Bay Horse, Middridge with an Evening Reception at Woodham Golf Club, In August the couple are travelling the world for a year for their Honeymoon.
Gemma has just qualified as a teacher from Sunderland University and Groom is a personal trainer at Bannatyne's, Durham. The Maid of Honour was Laura Rodgers, Bridesmaids were Cassandra Bowtell, Sam Toner, Sisters Katy and Xena Taylor,. The Best Man was Mark Walton and Usher was Josh Stones Gemma and Andrew now live at Byers Green but after they return from travelling hope to move back to Aycliffe.
The Bride & Groom wish to thank Gemma's Nanna for paying for a lot of the wedding and buying her amazing wedding dress.