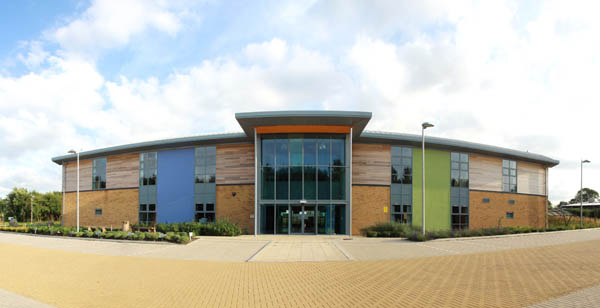 Since opening in September 2008, The Work Place at Newton Aycliffe has proved popular with both the business and education sectors, providing conference facilities and learning opportunities.
We have welcomed over 4000 students to the building over the past 4 years. They have been engaged in a variety of activities in eg Health & Social Care, Design & Manufacturing in the Centres learning zones, all supported by industry professionals. The Work Place is also the home to Durham County Council's Education Business Partnership, Im-proving Progression of Young People Team and the SCITT (Secondary Schools Initial Teacher Training).
New Partners
Over the past 12 months The Work Place has changed its focus and in 2011 The Work Place welcomed Hartlepool College of FE who are working with local companies Husqvarna and Gestamp.
Paul Marshall from the College said "Last year Hartlepool College of Further Education trained over 300 customers, most of whom were signposted into direct employment. The customers came from Job Centre Plus and Work Programme providers. Clients gained a Level 2 certificate in 'Preparation for working in the manufacturing and engineering industry'.  Gaining employability skills and the ability to up-skill within this sector is essential to maintain employment prospects.  Hartlepool College with partners the SORA Group, have established a base at The Work Place @ Newton Aycliffe which houses two assembly line facilities for people to train, learn and gain that valuable experience required by industry."
Darlington College are our newest tenants who are attracting young people onto their courses in Catering and Childcare.  Tracy Laycock from Darlington College said: "HOT on the heels of the success at the Skills Centre in Catterick, a new programme has been put together aimed at young people not in education, training or employment in the Durham Area including Newton Aycliffe, Ferryhill and Spennymoor area.  In partnership with The Work Place, Darlington College has put together new programmes for young people in Hospitality and Catering and Health, Social and Childcare".
Skills Centre Manager Tracey said: "It is a great opportunity for many young people to get back into education and realise what they can achieve. It's designed to give students a flavour of education in a way that might not have worked for them when they were at school.
Youngsters can achieve a Level 1 Award and Certificate qualification, alongside a Functional Skill in Literacy, and a Personal Social Development qualification."
Free tea and toast and financial assistance toward travel expenses is available to young people who will be expected to attend on Mondays and Tuesdays between 9.30am and 3.30pm and on Wednesdays from 9.30am til 12noon. For more details, please call Tracey on 07921 125 303, or the Course and Information Team on 01325 503050.
Training Opportunities
The Work Place is also a provider of high quality training courses to industry and individuals in First Aid, Health & Safety and Food Safety. We use the best instructors with a wealth of experience and our feedback is excellent with a 100% success rate, visit www.twpa.org.uk for more information.
Conference Facilities
The Work Place is a perfect environment for your conference, meeting and corporate events needs. We have comfortable spacious accommodation in a superb venue. A lecture theatre, high spec pods and a relaxing refreshment area combine to make The Work Place the venue of choice. With a range of room options for up to 200 and in a good location with onsite parking and good public transport access, the centre is convenient for the whole of the North East. Please contact 01325 375900 or tracy.henderson@twpa.org.uk