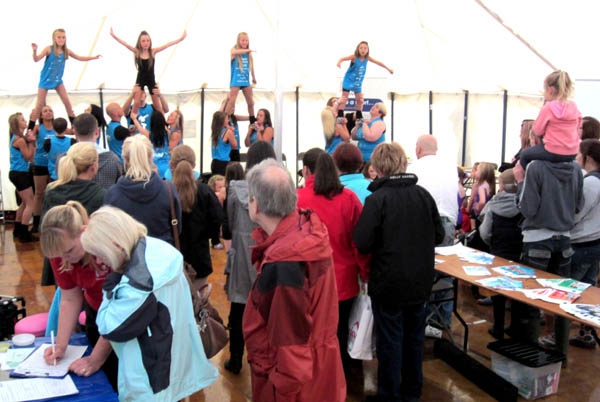 Dear Editor,
I would like to express my thanks to everyone involved in the 'Active Aycliffe' partnership tent at the Great Aycliffe Show.
'Active Aycliffe' involves organisations such as Pioneering Care Partnership (PCP), Great Aycliffe and Middridge Partnership (GAMP), Durham County Council's Sport and Physical Activity Team, Woodham Community College and local Beavers/Scout groups and sports clubs who have got together to run events and raise the profile of what's going on in Aycliffe.
The hire of the marquee was kindly paid for by the Great Aycliffe and Middridge Partnership (GAMP). It showcased the activities of local organisations as well as clubs and associations who were demonstrating their sports.
The Rotary Club funded the hire of tables and chairs and publicity and Livin and Lifestyle Fitness sponsored goodie bags that were handed out to visitors.
We had a total of 1936 people visit the marquee which is excellent. Evaluation forms are currently been reviewed and the winners of the prize draws will be announced shortly.
Thanks also to the 1st Newton Aycliffe Scouts, Cub Scouts and Beaver Scouts Groups who loaned us their generator and PCP staff, volunteers and therapists who supported the event.
Various activities are being planned under the 'Active Aycliffe' umbrella to enable local groups, clubs and organisations to showcase and promote their activities and encourage local children, young people and their families to join in and adopt healthier lifestyles.
The next Active Aycliffe event is a Free Family Fun Day at Newton Aycliffe Leisure Centre and town centre shop (next to Boyes) on Saturday 22 September starting at 10am.
Jane Hartley
Chief Executive, PCP