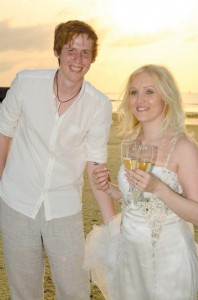 Carrera-Leigh Spence and Joe Dix were married in Zanzibar on 24th September 2012.  Carrera lived in Aycliffe and attended Vane Road School then Woodham Community College until she left for University, where she met Joe, who is from Norwich.
The couple now live in London. Carrera is a Volunteer Co-ordinator for The Passage, a charity working with homeless people, and Joe works as a Fundraising Web Producer for World Wide Fund for Nature.
The wedding took place on the beach at the Mtoni Marine hotel in Zanzibar, and was attended by close friends and family.