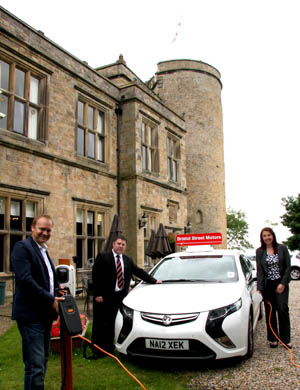 Best Western Walworth Castle Hotel have just installed an electric car charging point, and guests can now come to the hotel and charge their cars FREE OF CHARGE.
The owners have been working closely with Zero Carbon World, who have provided the charging points. Two charging points have been installed which means any type of vehicle can now be charged at the hotel.
Chris Swain, hotel director said "We are very happy to be one of the first hotels in the north to provide electric vehicle charging points. We were one of the first to provide free wifi, and now this is the norm. I am certain that electric vehicle charging points are a step closer in providing a sustainable future".
Rachel Swain, said "We were looking at the possibility of charging points a couple of months ago. The price of petrol and diesel is so expensive we have to look at greener options. As we are 5 miles out of Darlington so we have to take into consideration the cost of fuel for our customers to come and use our hotel.
Installing electric charging points will hopefully encourage them to consider getting an electric vehicle, making the journey to the hotel free.
As we are offering the vehicle charging free to all customers, this will hopefully be good for business as well as being good for the environment and further increasing our green credentials. I would like to give a bottle of Champagne to the first customer booking an overnight stay and using an electric car at our charging point." said Rachel.
Bristol Street Motors displayed the new Vauxhall Ampera, which gives over 235mpg and a battery life of 8 years.