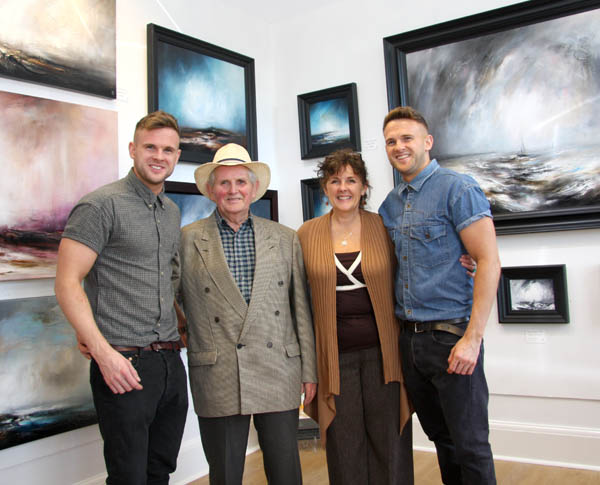 Colin Richardson, Lynn Rocks and her sons Steve and Chris Rocks are 3 generations of a family of artists living in County Durham who believe that fine art should be accessible to everyone.
Colin, who lives in Bishop Auckland, concentrates mainly on painting images of local landmarks and scenes, which depict the vibrance and energy of the people and places of the North East. He has covered many subjects such as Durham Market Place, Bishop Auckland Castle Gates, The Angel of the North and many, many more.
Colin, in his seventies paints most days and is currently working on a large piece depicting the old railway bridge at Spennymoor which also features the Town Band and banner.
Lynn lives in Tudhoe, where she has spent her whole life surrounded by the wonderful countryside, moorland, woodlands, rivers and waterways that rural County Durham has to offer.  This along with frequent visits to nearby coastal areas has coloured her art with movement, energy and light, taking inspiration from Mother Nature's glory. Her subject areas include: 'big' skies and sunsets, abstract landscapes and seascapes as well as uplifting floral pieces.
Lynn who has led classes at the PCP uses many different media to create her effects. The most talked about and admired is the ultra high gloss finish she adds to some of her oil paintings.
Celebrated artists, Chris and Steve Rocks are twins, born in Spennymoor, who have worked very closely together throughout their lives. Their paintings are collaborations of their very similar techniques and approaches, with each and every piece being a united response, usually with Chris laying down the major marks to create the painting and Steve adding the final flourishes of colour which makes the painting glow from within.
Their work is based on their interest in the concepts of light and luminosity and its effects on land, sky and water. Each piece is linked by a frenetic combination of the movements of a natural state, the colour and radiance being refracted onto various natural mediums giving a new outlook, depth and texture to the original idea, at times soothing, occasionally volatile. A contemporary feel is realised through a raw abstract influence, whilst retaining an aura of tone and depth. The twins and their mother are represented by De Montfort International Gallery.
The intention is to make the viewer aware that, as in life, everything is constantly changing, the colour and hue of every snapshot taken in by the eye is evanescent, drawing the viewer in and inviting them to make their own conclusions . . . nothing remains the same.
The exhibition was officially opened by Helen Goodman MP and is on until Saturday 27th October with free admision.
The opening times for the Spennymoor Town Hall Gallery are:  Weekdays 12.00 noon – 4.00pm and Saturdays 10.00am – 2.00pm, closed on Sundays.
All four will be there to talk to people about their work on the last day of the exhibition, but are contactable at all other times of the exhibition if anyone has any queries (staff at the gallery have their contact numbers).