Aycliffe firm Stiller Warehousing & Distribution is marking the end of a strong financial year, with turnover up 23% to £13m with the family firm investing £125,000 in five  new trailers.
Stillers provide cost-effective warehousing and distribution services to businesses in our region as well as commercial property lettings. It's also a member and major shareholder in Palletline, a national network of 70 companies.
Stiller's turnover by the end of its financial year in December is up from £10m in 2014. It comes after the company has made significant investments in facilities, equipment and people in recent years.
The workforce has grown from 100 in 2012 to 140 today. Earlier this year, the firm spent £1.1m on a new 40,000 sq ft, 5,000-pallet warehouse, increasing by nearly 50% its capacity to 200,000 sq ft.
A year ago, Stiller invested in a fleet of 12 new vehicles, including two 12-tonne vehicles, two urban trailers and four long double-deck trailers.  This latest £125,000 spend takes the company's overall investment in the last two years to more than £5.7m.
Commercial Manager Matthew Stiller said: "We have had a good strong financial result with turnover increasing and profitability to back it up. We've been putting a lot of money back into the company over the last four years, and that investment is coming good.
"I believe customers take comfort knowing their supplier is performing well and investing back into facilities, vehicles and equipment."
Stiller's five new trailers are made by Tiger Trailers, based in Cheshire. They're 13.6-metre, straight-frame trailers built to a German standard.
Matthew added: "They're an industry workhorseand the specification also requires a much stronger than ordinary body and curtain side of the trailer. Should they be involved in an accident, they will restrain goods meaning road users will be safer.
"We feel it's important to continually invest in the best equipment as we're already seeing a return on previous outlays keeping us at the forefront of the distribution market."
Stiller's store goods for companies all over the UK as well as local firms Gestamp Tallent and 3M. Its overnight Palletline operation handles more than 1,600 pallets every day, carrying goods ranging from food stuffs and packing to cookware, building cladding and shopping trollies.
But Stiller has also been boosted with extra business from Royal Mail this month in the build-up to Christmas.
Matthew added: "The Royal Mail has their own fleet of vehicles but they bring in external companies to deal with the Christmas rush.
"We've had a few of our vehicles out on the road moving Christmas cards for the Royal Mail, which is on top of all of the other work we already have on our books, so it's been a good way for us to round off what's been an excellent year for the company."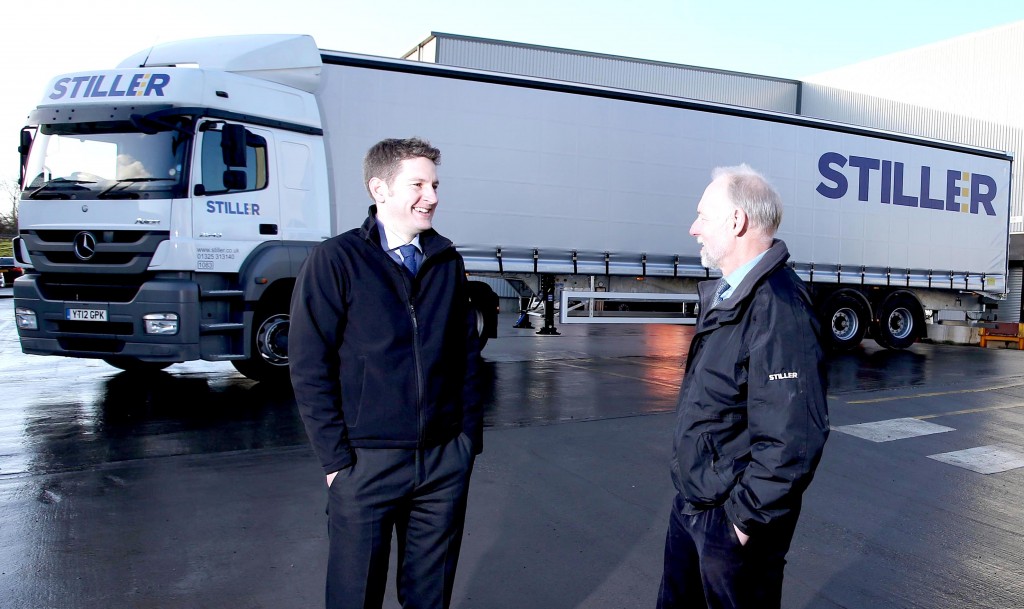 Stiller Warehousing and Distribution commercial manager Matthew Stiller (left) with site and fleet manager Herbie Blaser next to one of the firm's five new trailers.
Photo: Chris Booth.