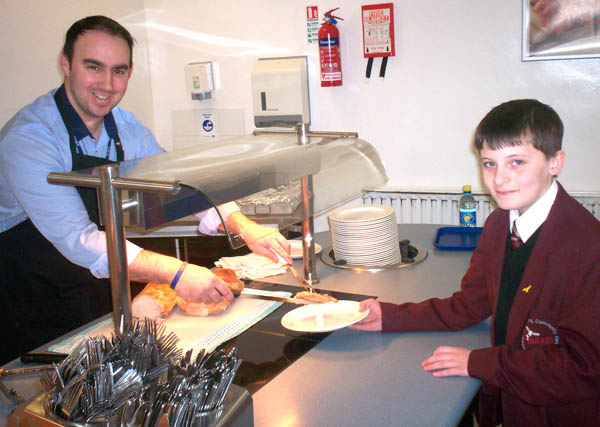 Do you have happy memories about your School Dinners – or was it all semolina, tapioca and lumpy rice pudding?  At St John's School and Sixth Form College in Bishop Auckland, school dinners have been given a totally new image by the in house catering team, headed by Marcus Baker a former RAF Chef.
Marcus has introduced a varied menu, a carvery one day a week, hot soup and a roll in the Sixth Form Bistro and many new and exciting additions.  He also endeavours to use local produce wherever possible.
Comments such as "much improved and larger portions" and "more choice" are being made by students and staff on a regular basis.
Marcus said   "I find it so rewarding to see people enjoying their food, whether it's one of the new meal deals we offer, a slice of pizza or something light or healthy, there is something for all tastes.  I can honestly say that I'm enjoying the challenge of making lunchtimes something that people look forward to and there's plenty more to come – you will just have to wait and see"