Photos taken by Michelle Kidd at the PCP Garden Group.
The group meets Monday 10-12 and Wednesday 10-12, also on a Friday 1-3pm. Everyone is welcome to come along. I joined approximately 6 months ago and have made some great new friends who are various ages and of varied abilities. Some of our produce is used in the Kitchen Garden Cafe – yum yum!
We plant etc in small teams and have a cuppa in the shed together. David, the garden leader, is very welcoming to people of all abilities. I myself am in a wheelchair, as is David the garden leader. I have found being part of the PCP and its various wonderful courses has had a very beneficial impact on both my physical and mental health and helped with social isolation.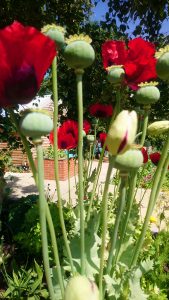 Thank you,
Michelle Kidd