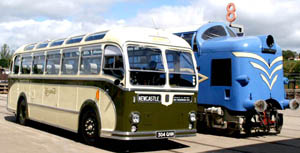 It is 100 years since the founding of the former United Automobile Services Ltd., one of the iconic bus operators in the North East of England? The Aycliffe and District Bus Preservation Society is celebrating this by holding three events in the region and in co-operation with Arriva NE the inheritors of United.
In June the Society hosted a display of vehicles in Grainger Street, Newcastle upon Tyne whilst last week vehicles were again on display in the Market Square, Darlington, the headquarters of United.
On Sunday 29th July, a bus rally will be held at Locomotion, Shildon with particular emphasis on United when a range of both Society and visiting United buses in preservation will be on display. There will be an opportunity to have a ride on some of these vehicles during the day.
Star attractions will be the formal launch of the Society's latest restoration project a 1958 United 39 seater coach which members have been working on for some years. The coach displays the United coaching livery of drab olive green and cream and is thought to be the only surviving example of their once extensive coaching stock.
Also appearing will be two Arriva service buses which have been painted out in United red and will be used on service over the next 12 months. The rally starts at 10.00am and will run until 4.00pm.