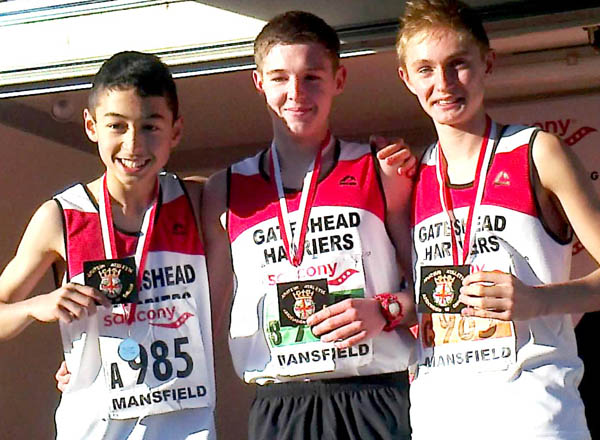 Newtonian Henry Johnson has made his debut for Gateshead Harriers a moment to remember for the rest of his life. On 3rd November the ECCA National Cross Country Relays held at Berry Hill in Mansfield, were the stage for his first run out with his fellow Under 15 team.
Markhim Lonsdale, Joe Armstrong and Henry Johnson proved to be a force to be reckoned with as they rose to the challenge of the 3 x 2km undulating course. The weather could not have been kinder as Lonsdale hit the first leg bringing the boys into a grand 8th place.
Johnson was second leg and seemed to have Hermes fastened to his heels as he flew around the course. At one section, Johnson was in the lead of over 100 top athletes from across the country, but he still managed to maintain a solid position and bring his team to 3rd place.
Armstrong ran an amazing leg and brought the team home. The boys first thought they were bronze medal holders as Joe finished 3rd over the line, but it appeared that one of the finishers did not have a complete team and so did not qualify.
When the "three amigos" heard the outstanding news that they were silver medallists they cheered with joy. Never in living memory has Gateshead Harriers had an under 15 team on the podium at a National event.
The Gateshead gang crossed the line in 20.18.25 for their 6km and only a few seconds behind the winners City of York AC and 6 seconds ahead of second place.