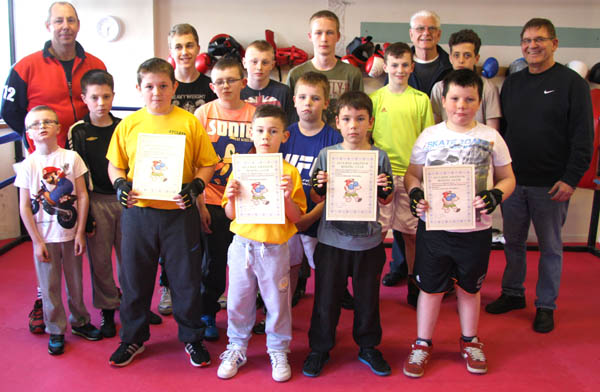 Members of the junior section from Aycliffe Amateur Boxing Club were presented with certificates on Thursday 25th for reaching the 1st stage in Amateur Boxing.
The 1st stage is the beginning of a boxer's career and after a few weeks they are tested for the 2nd stage, and so on to stage 4 which is championship standard.
Aycliffe ABC have 8 boxers at stage 4 that enter National Championships, the latest being James Lepoidevin when he travelled down to Kent last month in the National Schoolboy Championship Final and won the silver medal.
James's opponent was John Lee from Sporting Ring ABC in the southern counties, John was a rough come forward boxer with a high work rate but James kept him at bay with slick movement and counter punches, but the local boy got the nod at the end of the contest.
Aycliffe Amateur Boxing Club train Mon – Tues – Thursday evenings and Saturday morning at Acorn House, Durham Way North on the Business Park. Anyone can come along and give it a go, you don't have to be good, you just need to lift your arms and the fully qualified coaches will teach you everything you need to know and you will not have to do anything you don't wish to. Keep fitters are more than welcome and our members range from 6 years old to 68 years young, male and female.
For more information ring Les on 01325 308830, 313855.