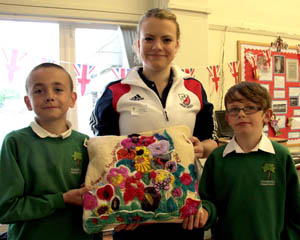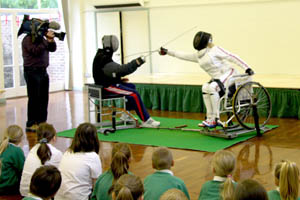 19 year old Paralympian Great Britan Fencer, Gemma Collis, visited Sugar Hill school last Thursday to tell her amazing story.
Growing up she took part in most sports and was a figure skater at National Level between the age of 8 and 11, played County level Hockey between 13 and 15, was District 100m Champion between the ages of 12 and 15 and was double County Champion in Triple Jump aged 15. Her dream was always to compete in the Olympics and was in training for London 2012 with the hope of representing Britain in the Triple Jump.
Then in July 2008 she contracted Reflex Sympathetic Dystrophy a progressive disease affecting the nerves in her right leg, causing extreme pain whcih has put her in crutches.
Undeterred she began coaching, officiating and volunteering at sports events. She discovered disability sports and began playing Wheelchair Basketball.
After starting a Law degree at Durham University in October of last year, Gemma was approached by Professor Laszlo Jakab, GB Wheelchair Fencing Head Coach, who asked her to try Wheelchair Fencing.
In that short time she has progressed to a level which qualifies her for a place in the GB Team Epee Contest in September. This is a truly remarkable achievement and Gemma is excited and proud to represent her country.
Sugar Hill students were given the opportunity to question Gemma at a special Assembly where she and her coach demonstrated the sport of Fencing for the disabled. She was warmly received and the children were much impressed wishing her the best of luck in the Paralympic Games.
Gemma received a commemorative cushion made by students in conjunction with Woolsack, a National charity who are providing cushions to as many Olympic and Paralympic athletes as possible.