Dear Sir,
May I thank everyone who has helped me with the Halloween Junior Disco on Friday 30th October at Planet Leisure in aid of the Caudwell Children's charity which has helped me so much since I was born with various medical problems.
I want to give them something back to help other children.  I have received a lot of support, but want more people to come to the disco as there are some fantastic prizes given by local people. The Rotary Club have just given me a cheque for £100 and part of it has bought a giant Teddy Bear which someone can win if they guess his name. Husqvarna have donated Garden goods worth £100
There is a wonderful Raffle with some very valuable prizes including a Doll's House made and donated by John Tindale. Thank you John this is a fantastic prize to win and I am jealous of the winner. Tesco's and Sainsbury's have donated £10 vouchers.
Thanks to Planet Leisure for giving the venue – without them this would not have happened. I am very grateful to Shawn for helping my Mum organise the event.
Thanks also to Safron at Love Thy Cupcakes who has helped with cakes and decorations. Paul Gittins is the Disco DJ and we are all looking forward to the dancing.
May I thank those who have helped sell tickets especially Vane Road School who have always supported me and my family, not forgetting Athena Gymnastics who have built my confidence –  can't thank Beth, Callum and Faye enough.
Thank you for reading this and please come along to our spooktacular night. We will be selling tickets and taking donations for Cauldwell at Tesco's on Friday 23rd October – thank you to them.
Hollie Williams Aged 10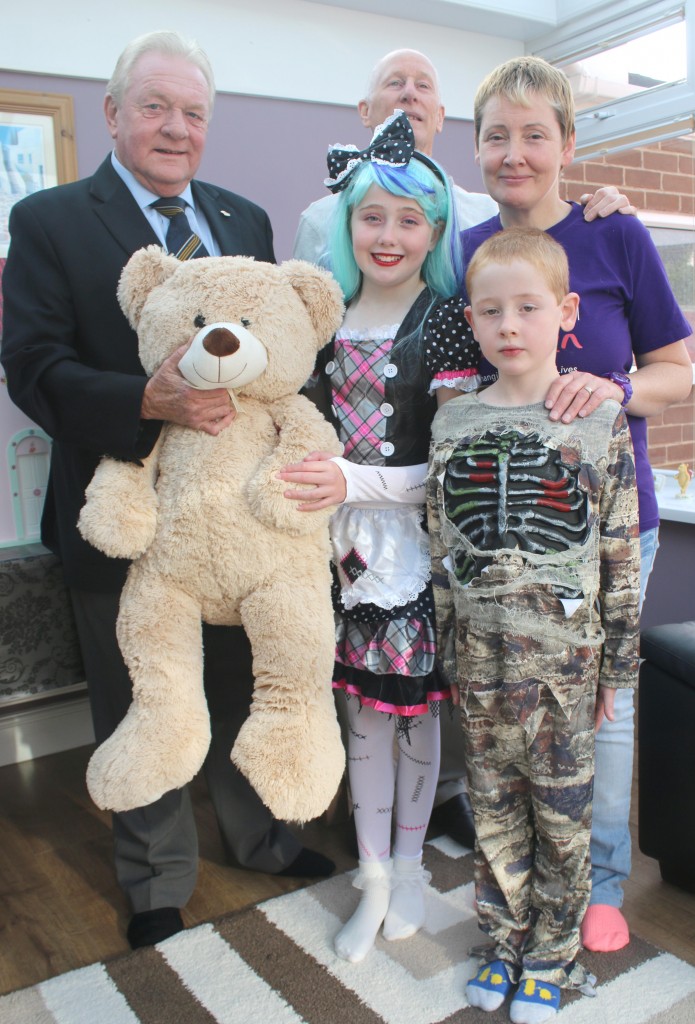 David Anderson, Past President of the Rotary Club presents Hollie with a Teddy Bear to help raise funds for her Charity Disco shown here with her parents and brother.