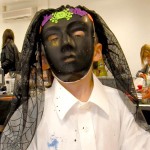 A free Halloween themed family arts session will be taking place on Tuesday 30 October 10-12noon at the Pioneering Care Centre.
This 'Spooky Fun' class will involve Halloween based crafts such as card making, mask deigns and spooky decorations.
The PCP currently run a weekly family arts session on a Saturday morning 10am-12pm. The programme is called 'Colour your Life' and encourages all ages to get creative.
The weekly classes are packed with easy, fun projects and activities such as painting, sculpture, graffiti and dance, allowing youngsters to express themselves in a variety of ways.
The sessions are free and children attending must be under eleven years old and accompanied by an adult.
To book onto the session or for any queries please ring the Pioneering Care Centre on 01325 321234 or email: colouryourlife@pcp.uk.net.