Aimee Reed with Peter Beardsley

Ben Potts &  Izzy Gardner with Peter Beardsley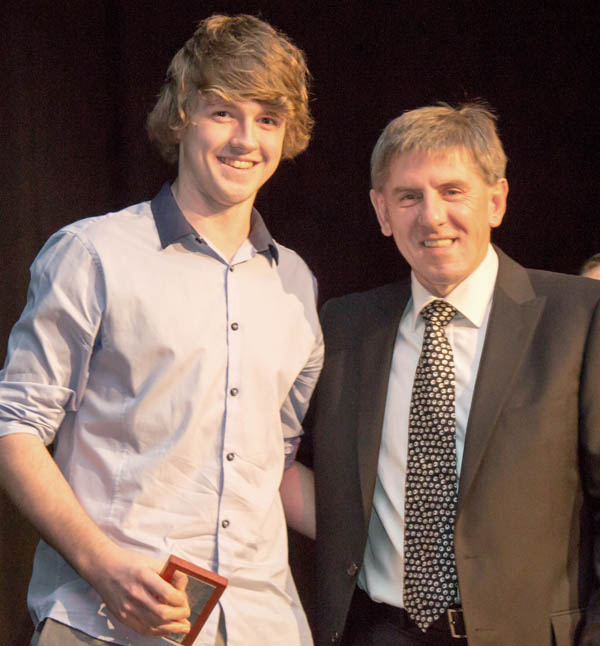 Dan Shaw with Peter Beardsley
Last week Greenfield enjoyed one of its most happy and proud nights of the school calendar when it celebrated the achievements of the CLASS OF 2012 and, to make it extra special the school was delighted to welcome Peter Beardsley, Football Development Manager for Newcastle United Football Club as guest presenter and speaker.
As the former students arrived and collected their clutch of hard won and well deserved certificates Peter shook each one warmly by the hand and posed for a memorable photograph.
The school hall was packed with former students, parents, teachers and members of the community and invited guests including councilors, governors, former Headteachers, Deputy Headteachers and the Deputy Mayor, Mrs. B. Clare.
Following an amusing and affectionate DVD of the year groups experiences throughout their time at Greenfield, David Priestley Headteacher spoke briefly but proudly not just of the year groups collective academic successes but more poignantly of their enthusiasm, commitment, care for each other and overall positive attitudes to the whole of school life.
Christine Stonehouse, Deputy Headteacher then led the evening with gentle humour and genuine admiration of all the class of 2012 have achieved.  However, before beginning the presentation of the numerous trophies for the students, it was a pleasure to celebrate community awards, presented by Katy Milne, which recognized the achievements of just some of the many local people who regularly attend courses at Greenfield.
The selection of trophies was impressive and the vast number of nominees and words of praise for the winners by their subject leaders, once again reinforced that 2012 was indeed a very special, record breaking year group.
The evening concluded with one of the most sincere and heartfelt speeches Greenfield has heard from a visiting speaker.  Peter Beardsley shared his values and linked his experiences and achievement to what Greenfield's young people had and would continue to achieve in life.   His words were warm and inspiring and ensured that this special evening would be remembered by all.
So, congratulations Class of 2012.  As Christine Stonehouse said, speaking on behalf of all the staff, and Headteacher "YOU ARE ALL STARS"
AWARDEES
Child Development: Laura Blenkinsopp; Design & Technology: Channon Nixon; English: Samuel Crick; Geography: Samuel Crick; History: Daniel Shaw; ICT: Lynsey Smith; Mathematics: Tara Chegwidden; MFL: Anna Robinson; Performing Arts – Dance / Drama / Music: Tom Hunter; Physical Education: Emma Colbourne; Religious Education: Lauryn Bennett; Science: Channon Nixon; Visual Arts: Sally Ann Teal; Vocational Studies: Shannon Wood; 'A' Level Art: Olivia Dunn; Attendance Award -'The Dave Tate Award': Tara Chegwidden & Katey Waters; Progress  Award – 'The Peter Beaty Trophy': Olivia Kidd; Highest Academic Achievement – 'The Mayor's Trophy': Georgina Clifford; Social Contribution – 'The Fred Leight Trophy' 2012 World Challenge Team;  The Outdoor & Adventurous Activities Award – 'Mike Thornton Trophy': Respect Trophy: Izzy Gardner & Ben Potts.