Three of Greenfield's U13 Cricket teams at Sedgefield Cricket Club with leaders Rubi Alderson and Emily Farlow (Year 9)
Sedgefield School Sports Partnership held their U13 Girls County Cricket qualifying festival on Tuesday 14th May at Sedgefield Cricket Club. (The U13 Boys event was unfortunately postponed from the 15th May to the 18th June due to the rain, good luck boys.)
Three of Greenfields girls U13 cricket teams travelled to Sedgefield Cricket Club on Tuesday, and the day was a great success. Three schools (Sedgefield, Greenfield and Whitworth Park – Spennymoor) fielded a number of teams, with all teams playing each other throughout the day. Greenfield's 'A' team demonstrated some excellent batting and fielding skills and were unbeaten throughout the day. Gaining first position and a place in the County finals. Well done and good luck.
During this event two of Greenfields cricket players were selected to attend County training at Chester le Street, Riverside due to their high levels of performance. Well done to Becky Adams and Katie McLaren.
Greenfields U13 Cricket team will travel to the County Finals at Maiden Castle on the 5th July along with Greenfields Yr 7 Boccia team who qualified for the County finals last month, and Greenfields U15 Boys and U15 Girls Rugby teams. Good luck to all involved.
Rubi completed her Cricket Leaders course in April, and has been selected by the FA to be part of their FA Futures Academy along with Sam Dobinson. Well done to both Rubi and Sam, and good luck to Greenfields cricket team in the County finals.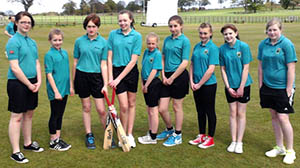 Left: Greenfields winning U13 Girls  Cricket  team  with leader and coach  Rubi Alderson (Year 9)