Girlguiding Newton Aycliffe Division would like to say a huge "Thank you" to Sara Layfield-Carroll at the end of her term of office as Division Commissioner.
Sara had many roles in Girlguiding over more than 30 years and has been Division Commissioner (not for the first time!) for the past 5 years, so will be known to many. Sara was succeeded as Division Commissioner by Becci Barnett on 1st May 2013.
Sara will continue to be an Assistant Brownie Leader in the town and is to be congratulated on her new role as Events Coordinator for Girlguiding Durham South County. She will be instrumental in helping the Brownies of Durham South celebrate their 100th Birthday in 2014.
If you would like to know more about Girlguiding, please visit our national website www.girlguiding.org.uk.  To register your interest as a volunteer or to find an appropriate local unit for your daughter go direct to www.girlguiding.org.uk/interested.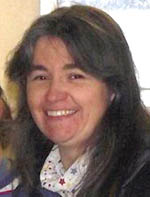 Becci Barnett
Sara Layfield-Carroll