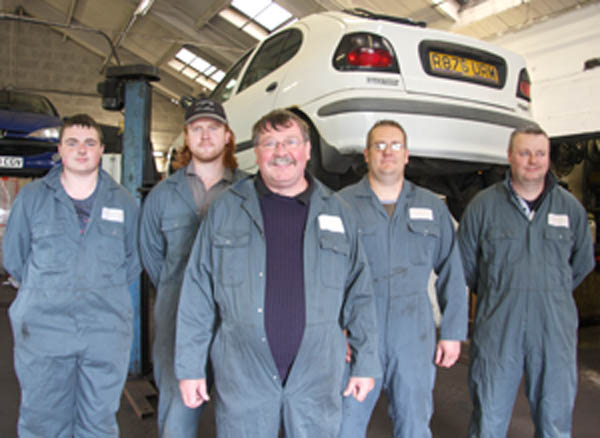 Founder Tony Brester with his staff
Tony Brewster who started his business in 1982 is the longest trading independent garage on Aycliffe Business Park.
He lives with his wife and two daughters in Newton Aycliffe and is a keen tropical and pond fish-keeper and gardener.
His wife Heather is a qualified accountant, recently retired as Head of Finance in County Durham Primary Care Trust. She is also a qualified swimming teacher, pool lifeguard, and runs free after school swimming clubs at Woodham.
The couple have two daughters, Vicky 27 and Katy 23. Vicky worked on reception at the garage after leaving Queen Elizabeth 6th Form College, and now works in Darlington. She is also a singer/songwriter and has her own band, 'Fear Before the Phrase', who perform throughout the country.
Katy joined Proctor & Gamble when she completed her A level studies at Queen Elizabeth 6th Form College and now deals with financial issues of P&G owned Companies across Europe.
Tony has four long serving employees, Jonathan joined the business straight from school 21 years ago.  Matthew also came from school 18 years ago as an apprentice after a work experience placement from school Chris joined the garage in May this year and has 7 years' experience in the motor trade.
Carl recently joined as part of the Bishop Auckland College Apprentice Scheme which Tony has supported for many years.
Brewsters have invested heavily in both the training of staff and the purchase of new equipment to ensure they use the most up to date working practices.
The firm offers free collection & delivery service in Newton Aycliffe, Woodham and Heighington.They specialise in the service and repair of vehicles including work for MOT. Tony is a licensed air conditioning provider and has engine, airbag and ABS diagnostics equipment.
The company recently signed up as a sponsor of Newton Aycliffe Football Club.
Tony said "I would like to thank all my customers, especially those who brought their cars to me in the early days. I am proud to have three generations of some families using our services."