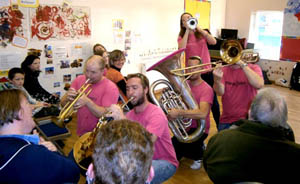 On Friday 20th July Agnew Centre hosted an Oompah Brass Band as part of the Durham International Festival and were very grateful to Arts Council England, Durham County Council & County Councillor Paul Gittins for providing the funding for this event.
The band kept the audience enthralled with their interpretation of modern pop music mainly from the 80's. Their interaction with the audience was brilliant, with our special guest Town Mayor, Val Raw and County Councillors Joan Gray and Mike Dixon in the audience.
The Secretary thanked Margaret Lovelady for the work done in bringing Oompah Brass to the Centre and Jane Taylor and Lydia Henderson for the catering. There was no charge for admission for this event. A raffle made £83 with the Band giving a CD and a lady donated chocolates. We received a cash donation of £32 from another lady who wishes to remain anonymous.
It was a sensational performance with Oompah Brass receiving a standing ovation. Agnew Community Association would be very willing to hold a similar event in 2013. Make a note in your diary for Saturday August 18th from 11am to 3pm when we are holding an Olympic themed Family Fun Day.