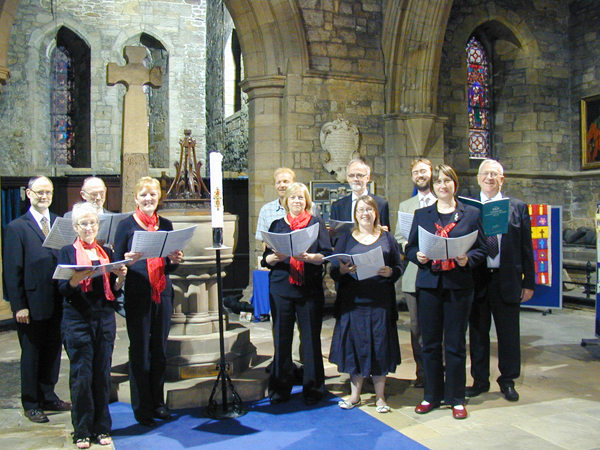 Choral singers who just love singing the great choral music of Bach, Handel, Purcell, Tallis, Byrd, Tomkins and Palestrina will have a great deal in common with the members of the Andreas Ensemble.
Founded in 2005, this is a friendly and enthusiastic chamber choir, which sets itself high standards of choral singing and offers the opportunity to rise to the challenge of performing cathedral-style music alongside madrigals and other choral settings from England and Europe.
The Andreas Ensemble draws its singers from all over the region, from Jarrow in the north to Barnard Castle in the south and Teeside in the east, brought together by a great love and enthusiasm for the joy of singing together and the glory of the choral sound. We enjoy a good social life too in addition to our musical activity.
Rather than keep it to themselves, our members would love to welcome new members to the choir with the same enthusiasm we all share.
This Christmas the choir is performing a number of baroque pieces with the Cobweb Baroque Strings, including Bach's masterpiece Cantata 140 "Wachet auf!", works by Handel and Buxtehude, with some a cappella seasonal motets and carols.
The Andreas Ensemble meets every Tuesday for rehearsal, 7.30-9.00 pm, in St. Andrew's, South Church, Bishop Auckland, where the church is regularly heated during the winter months. It sings in public 5-6 times a year.
If you might be interested in finding out more about singing with the Andreas Ensemble, an Open Evening is being held on Tuesday, 18th September at from 7.30pm. in St. Andrew's, South Church, Bishop Auckland, to which we extend you a warm invitation.
Brian Varley, who directs the Andreas Ensemble, said, "Why not give me a ring, email or come along to our Open Evening and see how you like what we do. You could also Google our website for more background and to listen to our recordings".