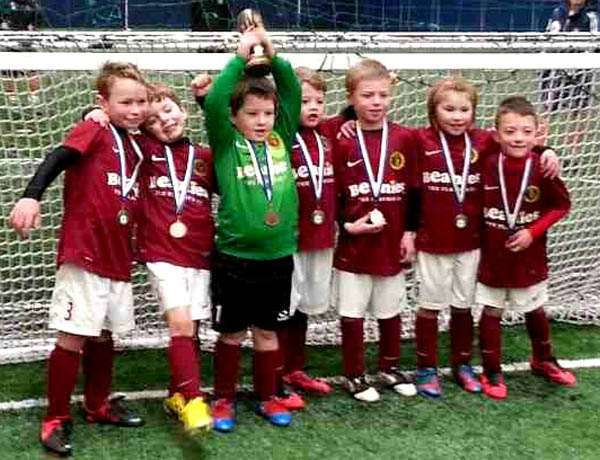 Najfc Under 7's entered the Soccarena Christmas 6 a side tournament last week where 13 team's were seeded and split into 3 groups. Their first game was against tough opposition, HFC, who started well scoring early, capitalizing on our mistakes. We were 3 nil down at the break. Second half we were at our best and soon had the score level with 3 goals in 5 minutes.
We pushed on but couldn't get a winner and 3-3 was the final score. Our two other group games were much easier with big wins over Soccarena fc and Deerness Valley. We went through as group winners and played Whickam jfc in the knockout stages, despite going 1 nil behind we went on to the semi-finals with a 2-1 victory.
The semi-final was a great game against Sunderland Foundation FC but again we went 1 nil behind but managed to equalize just before full time taking the game into extra time which we won 2-1.
This set up a final against HFC who took the lead early in the 1st half before we completed yet another fantastic comeback to win 2-1.
Well done to the team Dominic O'Donnell, Chloe West, Harry Brumwell, Jake Patterson, Aaron Jervis, Charlie Dawson and Zack Blythe.
Najfc caters for children from 4 to 18 years old. Check the website www. najuniorfc.co.uk