Newton Aycliffe Youth FC U11's Eagles 'lovin it' at McDonald's.
The team were invited to have a meal with their sponsor McDonald's in Newton Aycliffe following their match on Saturday, and had a fantastic time. McDonald's have sponsored the team since these lads formed as under 7's. They have provided kits and equipment and their support has been invaluable. As a community club, Newton Aycliffe Youth FC rely on money from subs and fundraising to provide for the players, however McDonald's have always been available to help out when we have needed anything and we couldn't appreciate their support more. Special thanks to Christie, the restaurant manager, (pictured with the team) for inviting the boys and for her continued support.
Under 12 Girls 4 – 1 Hebburn
First home game of the season for the under 12 girls saw us host Hebburn with a full squad of 13 girls. A solid start saw the team working hard for one another and playing good football all over the pitch. Organised throughout, Hebburn chances were restricted to a minimum as the defence stood strong. Creativity, going forward with a determined resilience saw us create plenty of chances and mid way through the first half saw us take the lead through Imogen Milburn. Shortly afterwards a penalty was awarded after a Hebburn hand ball, up stepped newly appointed penalty taker Jasmin Knights who made no mistake in finding the back of the net. HT 2-0. A couple of changes were made bringing on fresh legs to keep the tempo up with Ebony Newman thriving up front after a switch from midfield. Ebony led the line well and, some would say, bullied the Hebburn defence on her way to scoring 2 goals in the first 10 minutes of the second half to give us a 4 goal cushion. A couple more changes were made to the team to ensure all girls played their part with all 13 contributing massively in their own way. Hebburn caught us on the break and managed to grab themselves a consolation with the final score finishing 4-1. Resilient performance from the girls against a strong team.
Main Photo: U11 Eagles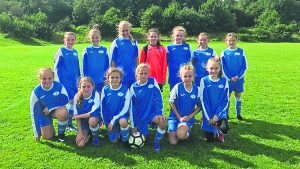 U12 Girls
Youthy round up from the weekend :
U11 Wildcats narrowly lost to Lumley Ladies after a very exciting end to end match.
U15 Girls lost a tough match to Redcar Warriors
U10 Angels Blue won against Velocity Diamonds following a well contested match.
U11 Eagles took a narrow loss to Wear Utd, a great game that saw lots of great teamplay.
NAYFC Women had a convincing win against Craghead Ladies.
U8 Boys had their first game of the season, showing great improvement and playing immensely well.