Newtonian athlete, Henry Johnson had a flying start to the track and field season. Competing for Gateshead Harriers, Henry has attacked the ever-popular middle distances of 800m and 1500m and successfully brought down his finishing times to national standard.
At the start of the season Henry was placed 2nd in the North East Championships at Gateshead Stadium. He ran the 800m in just outside 2 minutes and finished with a silver medal which was quite surprising as he had been away all weekend completing his Bronze Duke of Edinburgh expedition. The hike of nearly 30k over 2 days and sleeping under the stars did not deter the gutsy athlete, but Ryan Green, (Morpeth) just pipped him at the post.
Only a few days later, Henry ran one of the UK's fastest 800m for under 16 boys. With fresh legs and a goal in mind to qualify to represent Cleveland at English Schools, he stormed around the track at Durham in 1.57.2.  (Qualifying time 1.59). Throughout the months of May and June, he  has remained undefeated at district, county and inter-county level, gaining gold medals at each stage in the 800m. The inter-county final, held at Clairville Stadium on 15th June was an outstanding performance, and demonstrated that at only 15 years old, he can out run those under 17s from Durham, Cumbria, Northumberland and Cleveland.
Still thirsty for more, Henry took part in the British Milers Club event at Durham on Monday 17th June. Attacking the 1500m, he hoped to run the national standard for under 17s, (4.07).
After 3 well paced laps, he kicked in the last 300m and crossed the line in 4.06.3, winning the heat against under 20s and senior men. His amazing performances will take him to the national televised event held at Alexander Palace, Birmingham, on July 5th and 6th.
He will represent Cleveland County, at the English Schools event, in the 800m and hopes to make the final and bring home a new pb. Thanks go to his great coach, George Reid, who has dedicated many hours helping Henry achieve his dream.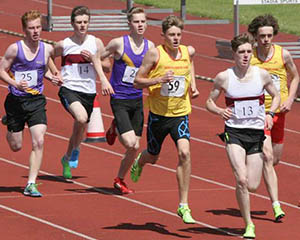 Henry leading the pack