Pupils from Aycliffe Village Primary School recently visited Bignall Group's engineering and manufacturing business in Shildon to observe and understand their advanced precision engineering technology.
During the visit, the pupils produced name plates using a CNC (Computer Numerical Control) machining centre. Chris Hutchinson, General Manager of Bignall Group said "The pupils were quick to understand the 3 axis machine movements and enjoyed using the digital measuring equipment. They used their iPads to film and record the visit."
The link between Bignall Group and Aycliffe Village Primary School was established when Head Teacher, Jed Gargan and Class Teacher, Jim Underwood attended training, through the Primary Engineer Scheme, at Nissan Motor Manufacturing Ltd (UK) in Sunderland. Bignall Group very generously sponsored this training.
The Primary Engineer Scheme brings together teachers and engineers to engage Primary and Secondary pupils with engineering organisations via curriculum mapped projects. The aim is to provide projects and enable pupils and teachers to understand more about the diversity and excitement of engineering.
Bignall Group engages actively with Woodham Academy, Middlesbrough College and are also industrial project partners with both Durham and Newcastle Universities.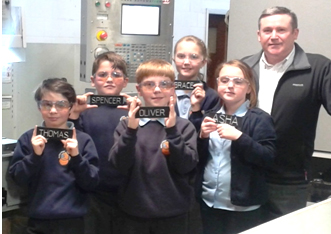 Chris Hutchinson with students from Aycliffe Village School