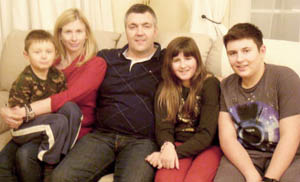 A family from Woodham leave this week to start a new life in Massachusetts in the USA.
Steven Hansom, wife Claire and children Sam (14), Katie (10) and Alex (6) are going to live in Franklin not far from Boston. Steven is the son of Stan and Dorothy Hansom. Stan taught for many years at Woodham School.
Claire is the eldest of three daughters of Roger and Sue Curtis of Aycliffe Village and worked in the family business, Curtis Office Furniture Ltd, in Darlington for nearly 20 years.
Sam was a pupil at Greenfield and Katie and Alex attended Aycliffe Village School and they are all excited at the prospect of enrolling at their new schools in Franklin.
The family flew to Boston on Wednesday this week and are hoping to move into their new home over the weekend.
Steven is starting his new job as Lean Manufacturing Manager North America with DuPuy Orthopaedics a subsidiary of Johnson and Johnson with effect from 1st February.
Steven has suffered a bit from his job title as to those that know him, he is anything but lean. A big man, who has an even bigger heart.
The whole family will be missed but go with the best wishes of both families and all that know them.