The North of England NDP (National Development Plan) Regional Championships took place last weekend, as Gymnastic clubs from the North competed for a place in the National Finals which are held in Stoke on Trent in May.
Athena Gymnastic Club, based in Newton Aycliffe and Shildon, this year sent a large squad of 24 of the clubs best gymnasts to compete against the best from clubs from Teesside, Durham and North and South Tyneside. The competition is split into NDP Grades 1 – 6 and Disability Acro Grades 2 – 3, and into Women's Pairs, Mixed Pairs, Men's Pair and Women's Group (Trio).
The commitment and training that goes into this competition is intensive and for the gymnast starts a year before the competition so a lot of hard work has been put in by the Coach and Gymnast alike. Athena in the last couple of years have managed to get gymnasts to Stoke and a couple of years ago had a gold medal winning pair at the finals. This year Athena worked really hard with their squad and competed with their largest team of gymnasts ever put into this competition.
Athena come away from the competition with a personal best for the club of 2 Gold and 3 silver, making it a very successful weekend. The first Gold came on the Saturday as Joshua Ashton and Millie Parsley won the Grade 1 Pairs, and the second Gold came on the Sunday as Arran Fuller and Amelia Dent won the grade 5 Mixed Pairs with Athena's Calvin Beaton and Millie Turley taking the Silver in a very close competition.
Arran and Amelia went one better than last year when they finished runners up but were invited to Stoke where they did themselves and the club proud with a 5th place finish in the finals.
The other Silver medals from the weekend went to Emily Neal / Millie Foster (Disability Acro Grade 2 Women's Pair), and Shakira Palmer / Frances Andelin (Grade 3 Women's Pair).
The club was particularly elated with Shakira & Frances silver as they beat 18 other pairs to get their places (The biggest category of the day).The club's Coaches were really pleased with the medals that were won and very pleased with the gymnasts that took part over the weekend competition as every one of them did the club proud. The club would like to thank Honest John for their help with sponsoring the gymnasts.
If you are interested in joining Athena contact Sam on 01388 605946 and who knows you could be competing in the future for a place at the NDP finals.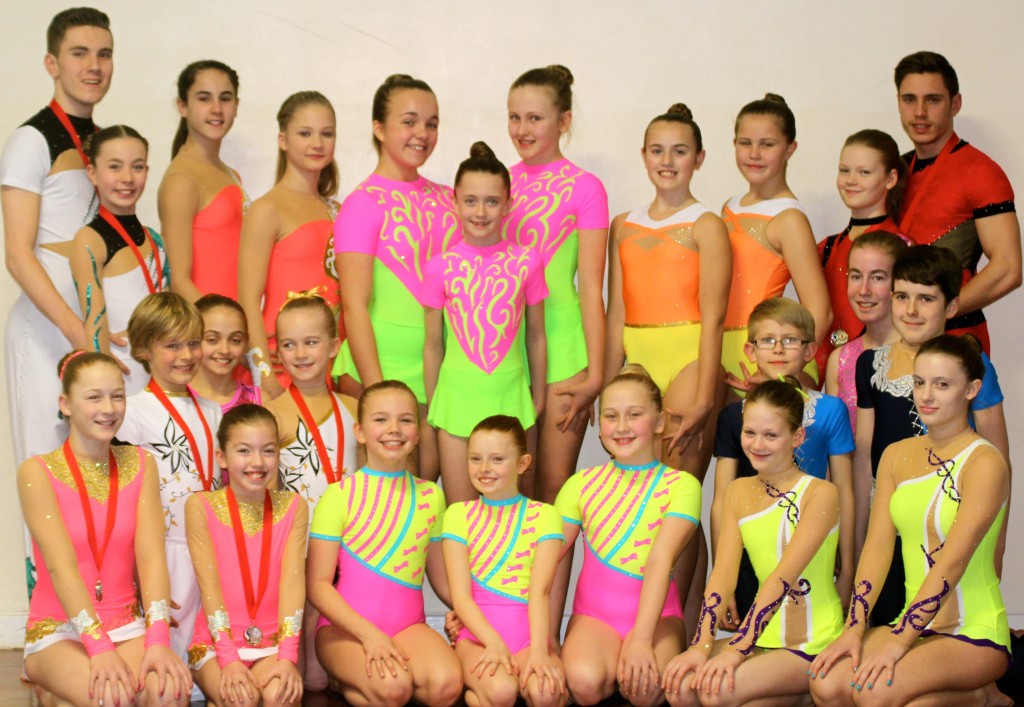 Back: Calvin Beaton, Millie Turley, Maddy Wood, Isabel Petty, Sophie Andelin, Ebonie Summerson, Millie Dunn, Ellie Bancroft, Grace Pateman-Patrick, Amelia Dent, Arran Fuller. Middle: Joshua Ashton, Millie Foster, Millie Parsley, Joe Dunn, Emily Neal, Joel Turnbull. Front: Shakira Palmer, Frances Andelin, Katie Andelin, Halle May Race, Piper Younghusband, Charlotte Dent, Zoe Jackson