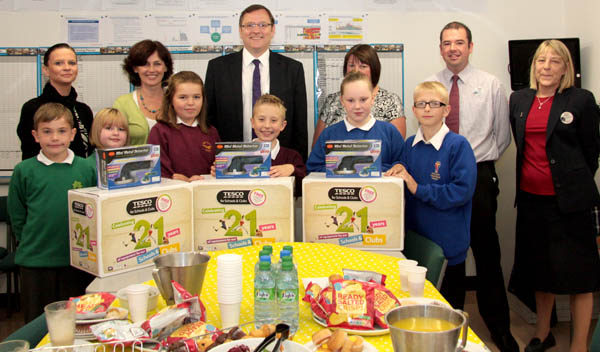 On Friday 14th September 2012, three schools (St. Mary's, Vane Road and Sugar Hill) went to Tesco to celebrate a grand total of 21 years of providing the vouchers for school scheme.
All of the schools attending the meeting had collected vouchers the year before. St. Mary's collected £400 worth of vouchers, Vane Road over £800 and Sugar Hill collected a whopping £3,000!
Tesco also helped raise lots of money towards cancer research. A member of staff agreed to have all of his hair cut off to have it turned into a wig for children who have unfortunately lost their hair.
At the end of the celebration, all of the lucky schools received an ENORMOUS box of goodies! They also received a tin of Celebration chocolates.
To finish the amazing event, Newton News took a photo of all the children and staff together. This was truly an event to remember!
By Logan Armstrong and Jessica McKenzie
Year 6, Vane Road Primary School